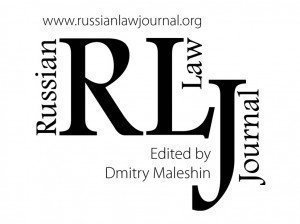 The Russian Law Journal is one of the first academic legal journals in English to be published in Russia. Our goal is to provide scholars worldwide with comparative papers on recent legal developments not only in Russia, but also in Eurasia, other jurisdictions and on the international level.

The idea to establish this journal belongs to the following scholars of Moscow State Lomonosov University Law Faculty: Gleb Bogush, Nataliya Bocharova, Dmitry and Anastasia Maleshin and Sergei Tretyakov. We want to bring the Russian academic legal tradition closer to the international environment and make Russian legal scholarship more accessible to other scholars and well-known worldwide.

Our editorial policy is governed by independent quality control. It is guaranteed by the Editorial Council and Editorial Board. We are proud to have such eminent scholars in our Editorial Council which is composed of professors from world-leading law schools: Yale, Harvard, Sorbonne, Cambridge, NYU, etc. Our Editorial Board is composed of scholars from leading Russian law schools (Moscow State Lomonosov University, Saint-Petersburg State University, Moscow State Kutafin Law University, Higher School of Economics, etc.).
---